Google's new algorithm, will assess user experience in detail.
Google claims that updates to its algorithm for 2021 will contribute to web business success. This update involves the insertion of vital signs of websites in the criteria to be evaluated by the algorithm.
Let's find out what they are?
In recent years, the Google team has developed internal studies and conducted market research on user preferences. After all, its main customers are Internet users.
Analyses carried out, the team led by Sundar Pichai, current CEO of Google and Alphabet, came to the conclusion that users prefer pages that provide them with excellent experiences.
In reality, and in terms of "ranking" websites, we already knew some criteria that mediate the user experience, the best known are:
To support this measurement, Google provides brands with monitoring tools for these matters, the best known of which are:
a tool that assesses how fast your website loads on a scale from zero to one hundred.
a tool that assesses website performance on mobile devices.
If you are reading this article, monitor your site right now.
The vital signs of a website.
Later this year the Google Chrome team "the browser", announced a series of metrics related to speed, responsiveness and visual stability. These metrics, a kind of vital signs (Core Web Vitals), support agencies around the world and brand owners to measure the user experience of their websites in relation to these parameters.
So what is the evolution of the algorithm?
Following this work, Google recently announced an evolution to its algorithm – the incorporation of new ranking factors in the evaluation of the website experience by the user.
"we will introduce a new signal that combines Core Web Vitals with our existing signals for page experience to provide a holistic picture of the quality of a user's experience on a web page."
It will also update its tools to support agencies and brand owners to optimize page experiences.
These changes are planned for the beginning of 2021.
But after all, what is the experience on the page?
"Page Experience is defined by a set of characteristics that measure how users perceive their interaction with a web page (pleasant, confusing, safe, unsafe, useful, etc.), regardless of the informative value it presents."
On this point, let me disagree. Or at least not entirely agree. The informative value of the contents will continue to prevail.
Which is not surprising if we recover the brand's mission here:
"Our mission is to organize the world's information so that it is universally accessible and useful to everyone."
As they state in another informative article:
"A great experience on the page is not a substitute for quality content. However, when there are multiple pages with similar relevance, experience becomes much more important for visibility in Search."
Google will then combine the criteria that derive from Core Web Vitals with the hundreds of criteria that already exist, with the promise of constant updating.
At the same time they are optimizing monitoring tools so that webmasters and business owners can optimize their websites.
The new metrics reinforce the assessment of a series of criteria such as:
Compatibility with mobile devices;
HTTPS and guidelines on intrusive interstitials (the so-called popops that block our screen for example).
And others as we can see in the image below: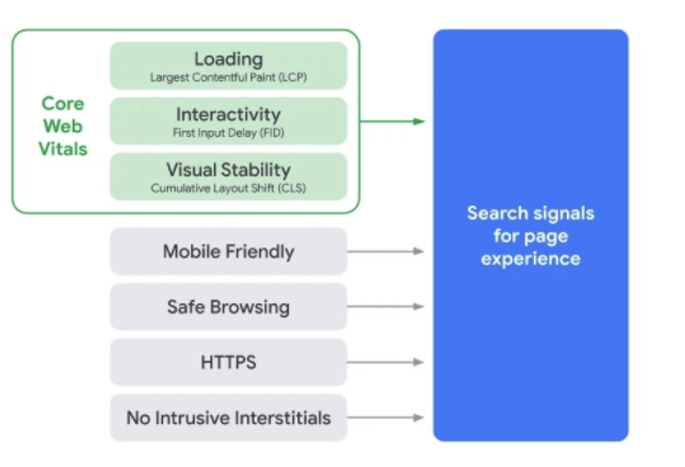 This measure provides for greater user involvement as it will ensure that web experiences get better and better.
In conclusion
Whenever our webmasters develop a website, it is a concern to ensure that they meet Google's ranking criteria but above all that they put the user experience first.
As a joke, we can recall a series of videos that appeared in 2017, with a famous phrase in this case the analogy would be "the user first".
All kidding aside, this is the premise that underlies the new Google algorithm update, when it decides to introduce new ranking factors to measure the experience that each page / website provides to the Internet user.
If you want to read the article on the Google website this is the address: https://webmasters.googleblog.com/2020/05/evaluating-page-experience.html
If this article peaked your interest, you may be interested in other articles that clarify in a more specific way some of these themes, which are increasingly relevant:
Is your website vulnerable? Find out how to solve this Problem.
6 Ignored SEO Tactics That Can Boost Your Google Ranking
Online performance: Do you know how often to update your website?
It only remains for me to wish you an excellent read, and see you soon!
Ps. you can request a free review of your website.