Before knowing the concept of Digital Marketing, it is essential to understand, first, the meaning of Marketing.
Etymology tells us that the word Marketing arises from the junction of the word market (market) with ing (suffix in English meaning action), in this sense, it is possible to translate the word "Marketing" as "Action for the market".
According to Philip Kotler, considered the father of Marketing, Marketing is a form of communication, a social process, through which individuals, or groups, achieve what they want, and what they need, with the creation, offer and free exchange of products and valuable services among them. Basically, it is a new way for companies to relate to the consumer.
More clearly, Marketing is the set of strategies by which companies create value and build relationships with customers to capture their value as well.
Times change, and with it the needs and consumption habits also change, which means that the concept of Marketing is subject to constant changes. These mutations led to the emergence of Digital Marketing, the strategy that revolutionized the world.
Timeline – The evolution of Marketing
The Product-Centric Era – Marketing 1.0
At this stage, the objective is to sell to the greatest possible number of buyers, through interruptive strategies. There is no focus on consumer needs, as production is mass, with basic and standardized products serving the market equally.
Communication is made from the company to the consumer unilaterally, without exchanging information.
The Customer Oriented Era – Marketing 2.0
At this stage there is an increase in competition, which makes individuals better informed and able to compare offers, prices and brands.
Companies are no longer able to offer products served to the masses, and market segmentation is born here. Companies start producing specialized products to satisfy a specific target audience.
The Value-Driven Era – Marketing 3.0
Here comes an orientation to values, just as customer-oriented marketing also aims to satisfy the consumer.
However, the focus is not just on products or services, but on a more humanized approach to Marketing. There is a greater contribution in terms of the brands' mission, values ​​and vision, since the main objective is to offer solutions to society's problems.
Human-Centered – Marketing 4.0
The internet and the evolution of technology form the online Marketing environment.
People are continually interconnected and there is easy access to global information.
Companies have large and diverse tools to communicate with consumers, as rapid changes require brands to be more flexible, adaptable and a more authentic personification.
At this stage, the Digital Era appears and with it Digital Marketing is born.
What is Digital Marketing?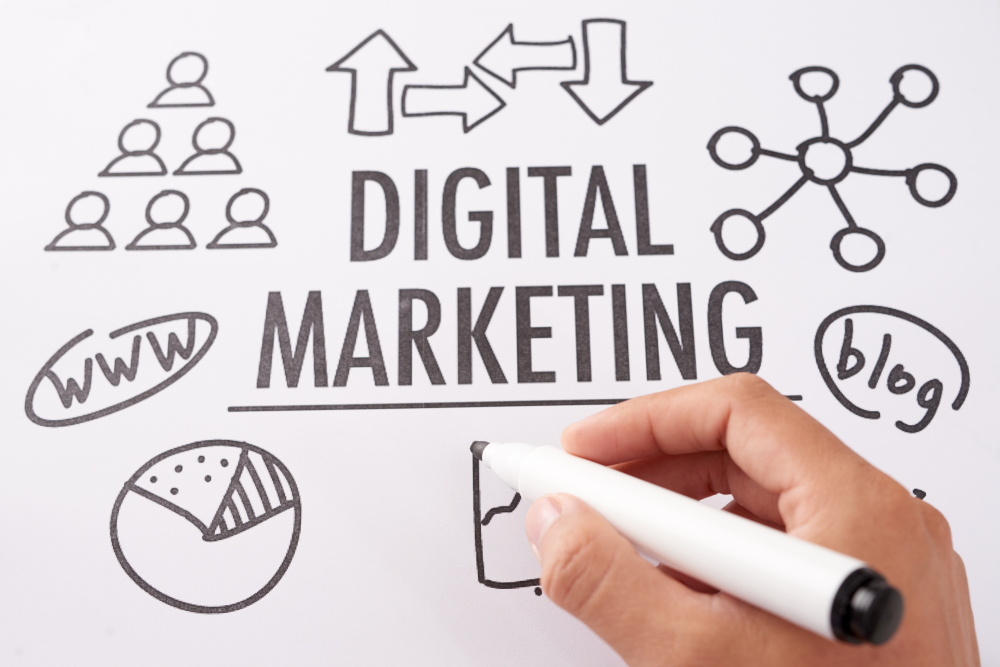 Digital Marketing is nothing more than an adaptation of the principles of Marketing to online. In other words, it is the set of strategies through which companies create value and build relationships with their audience, in the virtual environment.
The change that gave rise to Digital Marketing happened, in the 90s, "hand in hand" with the explosion of the Internet. However, the concept emerged in the early 2000s, when the substantial increase in the number of internet users made companies feel the need to think of new strategies to gain customers.
The objective of Marketing is to relate the company and the public in the right place and at the right time. Currently, we cannot deny that the majority of the population is connected to the Internet, and Marketing cannot ignore this fact. This means it is essential to find the audience where they spend most of their time, i.e. on the internet.
Consumers have changed and, above all, the type of consumption has changed. That's why Digital Marketing is the main way of doing Marketing today.
Like traditional Marketing, Digital Marketing is constantly changing, adapting to both the constant changes of the Internet and the needs of users, as a good Digital Marketing strategy is prepared according to the client.
A successful Digital Marketing strategy depends entirely on the knowledge and techniques used by the professional who carries it out. Although Digital Marketing is also about Marketing, it has its own terms that must necessarily be known by those who practice it.
Online Alert: The Key Terms of Digital Marketing You Must Know
CRM – Customer Relationship Management
It is the software that manages, in an extremely effective way, the relationship of companies with their current and potential customers.
Persona
Based on their real consumers, companies create semi-fictitious profiles representing the ideal customer. Thus, it is possible to create targeted and much more effective communication.
Sales Funnel
It is the well-known Consumer Journey. Basically, they are all the steps that a potential customer goes through during the purchase process.
Lead
Leads are business opportunities.
Landing Page
These are the pages that capture leads. On a landing page, companies must offer content valuable enough that visitors are enticed to leave their contacts. That's when that visitor turns into a lead.
As a rule, they are pages with fewer elements than a traditional page, thus avoiding distractions and guaranteeing the desired conversion.
CMS – Content Management System
As the name implies, this is a tool that helps in the production of digital content. It is a software that allows the creation of websites without the need for programming knowledge.
CTA – Call To Action
It is a proposal for the action of those who browse the site, in the form of a link or button, normally indicated in different colors of the text, helping companies to direct visitors during their consumer journey. CTAs invite the visitor to do exactly what you want him to do.
KPI – Key Performance Indicator
They are metrics that help measure the performance of a company's strategy and management.
CPC – Cost per click
It is a form of paid ad billing in which payment is made by the number of clicks made.
CTR – Click Through Rate
It's the metric that shows the clickthrough rate, that is, the relationship between the number of clicks and the number of ad views.
CPL – Cost per Lead
It is a metric used to calculate the investment spent on capturing leads.
CPT – Cost per Thousand
It's a metric that represents the spend generated per thousand ad impressions.
ROI – Return on Investment
It is a metric used to determine the volume of income obtained from a certain amount of invested resources.
Blog Content
A blog is a website (or a set of pages within your website) with a structure that allows for quick updates and frequent and interesting publications for the audience in question. As a rule, blog content is a specific subject that plays a more institutional role on the part of the company.
How does Digital Marketing work? 8 indispensable strategies
1- SEO- Search Engine Optimization
It is a set of techniques that aim to enhance and improve the positioning of a website on search engine results pages, thus increasing its amount of organic traffic.
2- Email Marketing
It is a Digital Marketing strategy that consists of sending emails to a certain audience, more or less consistently.
3- Sponsored Links
These are ads that appear on the search results pages of search engines.
4- Content Marketing
Content Marketing is a strategy to attract customers through the creation of relevant content (texts, videos, ebooks, posts on social networks). Content Marketing is a marketing method that does not directly promote the brand, but attracts the target audience by bringing solutions to their problems.
5- Inbound Marketing
Inbound Marketing is the set of Marketing strategies that aim to attract and convert customers through organic content. Unlike traditional Marketing, in Inbound Marketing the company does not go after customers, but explores channels such as search engines, blogs and social networks to be found.
6- Social Networks
Social networks are currently the best known and most used channels in what is Digital Marketing, since they are platforms used daily by most people.
Being present on social networks is a content marketing strategy that many brands adopt to attract visitors. However, to establish a presence on a social network and achieve greater brand visibility, it is important to understand that the focus is not only on selling, but on creating value for the public.
7- Affiliate Marketing
Affiliate Marketing is based on a business relationship in which the Affiliate advertises a company's product, in exchange for a commission for each sale made.
8- Google Ads
It is a paid Google tool that aims to increase traffic to a website by paying for ad clicks. It's the fastest and most direct way to gain visibility online and increase your conversion rate.
5 Steps to Create a Successful Digital Marketing Plan
To create a Digital Marketing strategy, it is necessary to establish, first, objectives. And to achieve these goals, the ideal is to plan different scenarios.
The Marketing Plan is a written document that details the sequence of actions established for online channels with a view to making the brand or company recognized and chosen by its audience at the expense of the competition.
The difference between a traditional Marketing plan and a digital Marketing plan is that the second takes place in the digital environment, which requires considering its particularities in the elaboration.
In short, it is in the Marketing plan that the necessary steps to reach the predetermined Marketing goals are established.
However, it is necessary to highlight the importance of some essential steps to create a successful Marketing plan.
1- Analysis and Diagnosis
Exactly knowing the company, its mission, vision, values ​​and its services and products in all their extension and depth are essential elements for us to achieve good results in the future.
Who our competitors are and what they are offering allows us to make some informed decisions down the road.
Associating the information prior to the development of an internal and external analysis of the company, through SWOT analysis, will allow you to analyze the strengths, weaknesses, opportunities and threats of your company and the market in general.
2- Establish Digital Marketing Objectives
Once your company's strengths, weaknesses, opportunities and threats are known, it is essential to establish goals and objectives in order to work with a focus on achieving those same goals.
3- Define the Marketing Strategy
Having established the goals to be achieved, it is time to define the Marketing strategy to execute the plan. To define your strategy, it is important to consider the following factors:
Segmentation
The solutions offered by your company are aimed at an audience with common characteristics, so identifying who you want to approach makes all the difference.
It's time to create your buyer persona.
The persona is a representation of the ideal customer profile. It represents an in-depth study of its target audience, in order to recognize its characteristics as a consumer, such as tastes, needs, preferences, where it is located, among others.
Positioning:
Positioning will be the place your brand will occupy in consumers' minds. That's why it's crucial to know exactly your value proposition and what it entails.
Through positioning it is possible to explain to the consumer why they should choose their brand and not one of the competing brands.
Content Strategy:
This strategy is important to create and manage content that attracts users and positions the brand as a reference in users' minds.
It is essential to establish a specific communication plan (Content Marketing) for each channel.
4- Create digital strategies
Based on the established objectives (attraction, conversion and loyalty) the execution of different strategies must be followed: Email Marketing campaigns, SEO strategies, CRM, social networks, sponsored links, etc.
5- Analysis of Results and KPIs
After creating and implementing the Digital Marketing strategy, the next step is to analyze the results. Through the use of KPIs, it is possible to measure all actions taken and find out if they obtained the expected ROI.
Measuring the effectiveness of the strategies and activities implemented in the Digital Marketing plan helps to correct what did not work so that it is possible to reach the established goals.
  Digital Marketing Tools
Digital Marketing tools are useful to filter the most important information and understand strategy development. However, this is only possible if the objectives of each strategy are duly known.
To help you develop a successful strategy, we highlight some of the tools for tracking your digital marketing strategy, and their respective purposes.
SEO Tools
Keywords search:
Technical SEO:
Backlinks:
Analysis Tools
Metrics analysis:
Competition Analysis:
CRO Tools
Social Networking Tools
Design Tools
Email Marketing Tools
The Advantages of Digital Marketing
Currently, it is essential that companies, particularly those that are expanding, have as a priority the concept of what Digital Marketing is.
Through an adequate Digital Marketing strategy, it is possible to obtain several advantages that will position and highlight your company. Among them are:
1- Improved communication and relationships
Through digital channels, namely social networks, it is possible to establish contact between the public and the company.
Through digital channels, consumers benefit from the proximity created and take the opportunity to answer questions about products or services, make suggestions and evaluate the work done by the company.
2- Global reach
The internet emerged and what is certain is that despite the distance, the digital environment brings people together.
This virtual approach brings a positive impact to what Digital Marketing is. Thus, reaching people from anywhere in the world is simpler and more practical than with traditional strategies.
3- Increased competitiveness
Your company's presence in the online environment improves ties with the public, keeps up with the competition, reinforces differentiation and helps to build customer loyalty.
4- Attract the right audience
With Digital Marketing strategies it is possible to improve segmentation, compared to traditional Marketing. In this way, it is possible to direct the message only to the public that actually represents potential consumers.
5- More opportunities
Through focused and well-segmented strategies, it is possible to increase the number of sales opportunities. With a well-designed funnel, it becomes simpler to educate the market and guide it to the moment of purchase.
What are the worst mistakes in Digital Marketing?
Marketing strategies are crucial to your company's success. However, to achieve this success, it is necessary to pay attention to every detail.
To help you establish successful Digital Marketing strategies we've left you with a list of mistakes that can dictate the failure of your digital strategy:
Don't define your persona;
Not setting goals;
Choose inappropriate strategies;
Not regularly reviewing your competitors;
Lack of planning;
Produce content only focused on your products;
Not using the right communication;
Don't write articles;
Not having good customer support;
Not optimizing marketing efforts;
Not evaluating the results of your actions.
5 Consequences of not investing in Digital Marketing
Currently, Digital Marketing is no longer an alternative but a duty for companies that want to ensure their competitiveness in the market.
Not investing in Digital Marketing is a risk for companies, regardless of their market or environment, generating several unwanted consequences for them. Like:
1- Difficulty in finding new customers
Times have changed and with it consumption habits too. Nowadays, most consumers are aware of the need to do online research before making any purchase. Therefore, if your company is not positioned in the digital world, it will not be a solution for this type of audience.
2- Lack of market monitoring
The market is constantly evolving and is becoming more and more digital. To make your business grow, you need to keep up with trends and stay ahead of the competition.
However, if the objective of what Digital Marketing is is ignored, the probability of not positioning your company in the market and falling behind the competition is very high. Being involved in the digital world, in addition to improving your company's relationship with your audience, increases sales and optimizes your routines.
3- Competitive difficulty
Most companies today are in the digital world.
The internet and what is Digital Marketing, nowadays, allows companies to strengthen their competitive advantages and relate more easily with their audience, which leads to a greater capacity to respond to the needs that these people represent .
These days, being present in the virtual world is a must for companies.
4- Reduction of company profitability
With the reduction of market competitiveness, attracting new customers for your company becomes an impossible mission.
To ensure the sustainability of your company, it is essential to be aware of constant market trends and adopt them. In this way, it is possible to maintain recurrent growth and a profitable and profitable business.
5- Difficulty in retaining customers
The truth is, a loyal customer can be much more profitable than a new customer.
Digital Marketing, together with the correct Marketing automation tools, allows companies to create a network of loyal, satisfied consumers and brand promoters, thus generating an increase in organic referrals and in the customer base.
Why should you hire a specialized agency?
Digital Marketing consists of Marketing strategies applied to the digital world. It promotes products and services quickly and significantly, through direct and personalized communication between companies and their respective audiences.
The objective of a Digital Marketing agency is to provide support to companies in order to improve their market position and thus obtain better results. In order to ensure that companies have a complete Digital Marketing strategy, the agencies have specialized professionals, advanced resources and all the necessary support tools.
Digital Marketing is not a simple task, it is a strategy that must be based on many studies, researches and prior knowledge. Therefore, investing in the work of a specialized team is the best way to implement a successful Digital Marketing strategy.
In a Digital Marketing agency, there are sectors responsible for different areas. The execution of tasks is organized and carried out in stages, in order to make the process more objective and efficient. This entire process is based on real tests and results so that the created strategy is the most assertive.
The tools and software used by specialized professionals from a Digital Marketing agency have advanced resources that optimize and help strategies to ensure their success.
In fact, there are several ways to promote your company in the digital environment, and a Digital Marketing agency, in addition to knowing exactly all these ways, knows which is the most suitable to leverage your business. By creating digital strategies that are aligned with your company's objectives and with your target audience, the agency drives your company in the virtual environment.
If you liked this article and wanted to establish or optimize your company's digital marketing strategies, contact us.
At Brand By Difference, we have a specialized and organized team with all the resources and tools necessary to ensure the success of each Digital Marketing strategy created by us.
The team, Brand By Difference, works authentically on your company's Digital Marketing, transforming your business into a true market player!